Teragence Signal Checker Data on Esri's ArcGIS Marketplace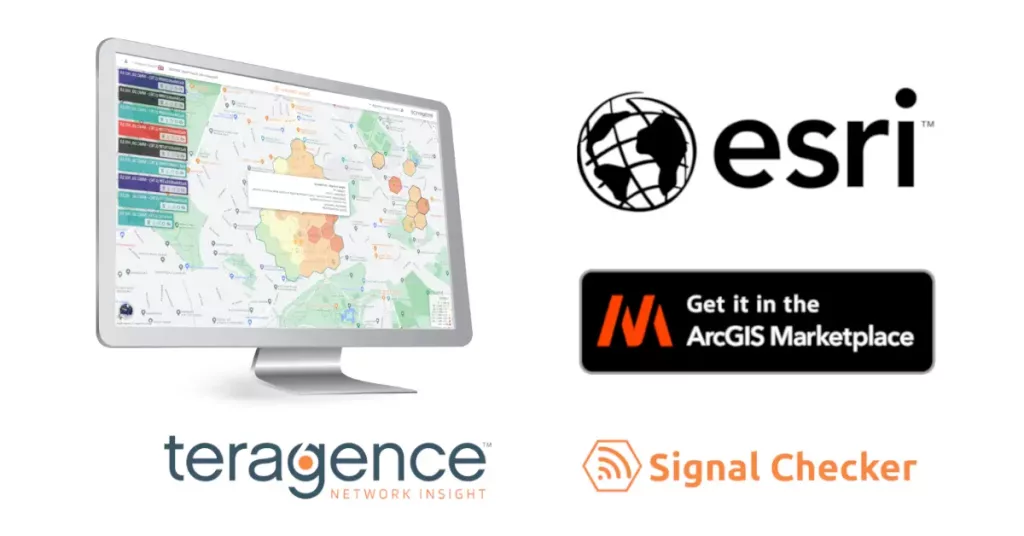 A Milestone in Geospatial Analytics and Cellular Technology Integration
From today Teragence Signal Checker data is available on Esri's ARCGIS Marketplace.
Esri is the world's leading supplier of mapping & spatial analytics technology through its GIS software, spatial analytics and location intelligence products.
Esri's ArcGIS Marketplace is a curated digital geospatial channel of system ready apps, content, solutions, and professional services from Esri's ecosystem of partners for ArcGIS users to identify and discover additional resources for ArcGIS software.
Listing on the ARCGIS Marketplace brings Teragence's Signal Strength Checker data across all cellular technologies (2G to 5G) as well as LPWAN technologies such as LTE-M and NB-IoT, within easy reach of Esri's GIS user community.
Esri serves a wide range of industries such as Local Authorities, Utilities, IoT, Real-estate and Property and Telecommunications. ARCGIS users in those sectors can now easily access the Teragence Signal Checker data and integrate it into their own applications and bring in the relevant , location-specific signal strength data to support their analyses. They can do this for individual locations or entire areas.
This listing on the ArcGIS marketplace complements Teragence's other marketplace listings such as on Datarade, Mobito and the Snowflake marketplace, making the Teragence Signal Checker data findable and accessible to as many users across as possible.
The ARCGIS Marketplace listing of Teragence Signal Checker data can be found here: Teragence Signal Checker on Esri's ArcGIS Marketplace.
Teragence's Signal Checker offers detailed, precise, and geographically-targeted insights into mobile network signal strengths. These insights cover all service providers and technologies in Europe and North America.
Beyond just delivering mobile signal strength metrics, we provide insights into the methodologies behind these measurements. Our information is accessible via our SaaS platform or through an API,
For a detailed look into our offerings, visit our mobile network coverage mapping solutions page. If you have any questions or need further details, don't hesitate to reach out on our contact page.
---