Introducing Teragence's New Mobile Mapping Website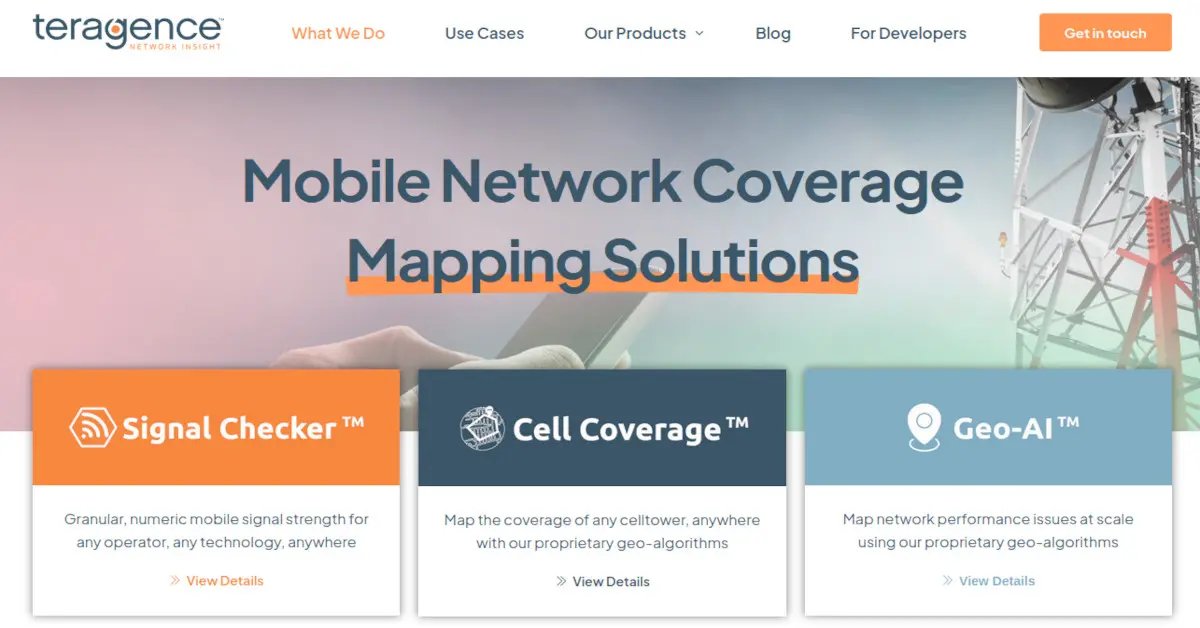 We're excited to announce the launch of our newly Teragence's Revamped Website. As a company that facilitates digital transformation for other businesses, we constantly seek ways to innovate and adapt.
At Teragence, our mission is to empower businesses with unparalleled mobile connectivity insights, and we believe in staying ahead of the curve. This revamp is a testament to our commitment to digital evolution, offering a fresh look into our advanced mobile network coverage mapping solutions that power transformative changes across industries.
Why the Redesign?
In our continuous pursuit of excellence, we felt the need to offer our visitors a more intuitive, user-friendly, and informative experience.
It succinctly showcases our core offerings, from granular numeric mobile signal strength to proprietary geo-algorithms that map network performance issues at scale. The sectors we support, our esteemed partners, and the latest news and views are all presented in a streamlined manner.
This design not only presents a visually appealing introduction to Teragence but also ensures that visitors can quickly grasp the essence of our mobile network coverage mapping products and the value we bring to businesses that rely heavily on mobile connectivity.
Diving Deeper with Teragence's Blog: News and Views
At Teragence, we believe in not just offering solutions but also in sharing knowledge. Our revamped website features an improved News and Views section, where we explore the intricacies of mobile coverage mapping and its implications across various sectors.
For SMEs like Teragence and our esteemed customers, these blog posts are more than just articles.
They foster innovation, and ensuring our clients stay informed and ahead in their respective industries.
Explore our recent blog posts and enjoy the refreshed design as you explore topics such as:
Delivering Mobile Connectivity Insights Across Industries
Teragence's granular mobile connectivity mapping insights are not limited to a single sector.
From telecommunications to transportation, our solutions cater to a wide range of industries, ensuring optimal mobile connectivity.
On our newly structured use case page, we highlight how our mobile network mapping solutions support a diverse range of industries, offering benefits such as:
Enhancing property valuations with accurate mobile connectivity data for Real Estate & Property.
Optimizing operations by understanding mobile network strengths and weaknesses in various regions for the Utility Sector.
Ensuring seamless connectivity for travelers and transport operators alike for Transportation.
Assisting municipalities in making informed decisions based on mobile network coverage for Local Government.
With our precise mobile network data, these industries can refine the planning and operations of their mobile connectivity requirements and propel their digital transformation journey forward.
Accuracy, Granularity, and Transparency: Our Commitment
At the heart of Teragence lies our unwavering commitment to providing accurate, granular, and transparent data on mobile network coverage and signal strength.
Our new website echoes this commitment, showcasing how our mobile network mapping is transforming businesses that heavily rely on mobile connectivity.
We gave a new home to each one of our products immediately conveying their core service and making it easy to explore further or even try out a free plan.
Incorporating demo videos was essential to showcase our products' capabilities instantly. Reflecting on our journey, we added use cases to give a more vivid understanding of Teragence's value and illustrate how our solutions address real-world challenges.
At Teragence, we understand the challenges faced by various industries, and we have solutions tailored to address those specific needs.
Experience the revamped design and enhanced features of our mobile network coverage mapping suite:
Join Us on This Journey
We invite you to explore our redesigned website and immerse yourself in the world of mobile network mapping. Your feedback is invaluable to us. We'd love to hear your thoughts on our new design, features, and any other suggestions you might have. Contact us for any question you may have.
---